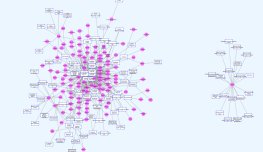 Summer is finally here and so is the second NDEx update planned for 2017! NDEx 2.1 provides several new features to support collaboration and publication of networks.
Network Sets allow users to create collections of networks while the Share URL feature makes sharing networks as simple as sharing a document in Google Docs or Dropbox.
Search results are now ranked according to their NDEx Score which is a measure of the degree of annotation of a network and the redesigned Network Property Editor let's you dynamically see how adding annotations improves your network's score.
An NDEx R Client is now available as a Bioconductor package thanks to the awesome work of the Kramer Lab at the University of Goettingen, Germany and the CyNDEx App has been upgraded to v4.0.1.
Then we have disk quotas, network cloning, Search Term Expansion and lots of new network content!
The Q2-2017 Update also gives access to the NDEx 2.1 installation package and instructions; individual users and organizations can now install their own NDEx 2.1 server, web application, query engine and use the NDEx Sync program to copy networks between NDEx servers.
As usual, we ask you to spend a few minutes to review our latest Release Notes containing detailed information about the Q2-2017 Update and all the links necessary to access the relevant documents and download files.
Please contact us if you have questions, need support or are interested in starting a collaboration! You can stay in touch with the NDEx Project by following us on Twitter, LinkedIn, visiting our Informational/Doc website or signing up for our newsletter (no more than 1 email per month... we promise!).
And if you plan on attending the ISMB/ECCB 2017 conference in Prague (July 21-25), please come see us at Booth 17 to preview our new prototypes, provide feedback and help us make things the way you want!